THE SOUTH LINCOLNSHIRE LEAGUE

MARCH : The entries to both the Elsham Foursomes and Bramley Singles County Matchplay Championships have been made

The Elsham Foursomes - team of 6 -

We have been drawn to play AWAY versus Boston G.C. on Friday 21st April TEE TIME AND TEAM TO BE ANNOUNCED

The Bramley Singles - team of 3 -

We have been drawn to play AWAY versus Sleaford G.C. on Tuesday 2nd May

TEE TIME CONFIRMED AS 5PM
NEWS DURING THE MONTH OF FEBRUARY 2017

Captain Simon has organised a Pre-Season Practice Match - AWAY - on Saturday 25th March with the gents of

(play the March Rainbow before you travel to Boston, if at all possible !!)

Please contact Simon for further details

and all fine tuning of the new season
"A" TEAM NEWS DURING THE MONTH OF JANUARY 2017
Welcome the the New Year !
A huge thank you to outgoing Captain, Bruce, and a warm welcome to incoming Captain, Simon Green.
~ MEMO - The series of TEN 2017 League Matches start on Saturday 22nd April and finish on Saturday 26th August
~ DON'T FORGET TO COLLECT YOUR COPY OF THE 2017 LEAGUE MATCHES CALENDAR IN THE LOBBY
~ PLEASE SIGN UP FOR THE TEN FIXTURES AND TICK AVAILABILITY
ON THE LOBBY NOTICEBOARD
The South Lincolnshire Golf League
2016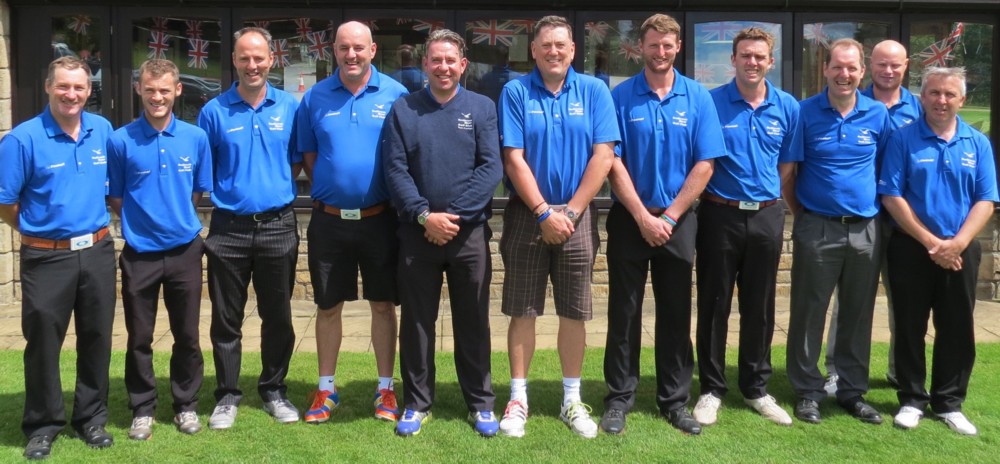 2016 Squad
( Missing from picture: Michael Green, Martin Greene, Rob Keddie, Jon Machin,
Pete Martin, Andy Newman, Darren Nicholson, Simon Pullen,
Graham Ritchie and Andy Stones )
Team pictured before the Home Match against Thorney Lakes on Saturday 2nd July.
Left to right:
Nigel Corby, Martin Corby, Andrew Green, Simon Green, Captain Bruce MacFarlane,
Phil Hall, Dan Reidy, Jim Sergeant, Paul Burrell, Craig Machin, Keith Maclachlan.
We were authorised by the South Lincolnshire Golf League Committee to change any inconvenient fixture dates, well before the new season started.
This Fixture List, below, is our official list and will differ from the original listing prepared by the League Secretary, Richard Gilbert. We avoided any match dates that clashed with our Saturday Medal Days.
Copies of this list is the only one produced and advertised at this club.
Copies are provided for you in the Lobby.
NEWS HEADLINES FOR CAPTAIN BRUCE
Bruce MacFarlane brought credit to the club during the week, with two achievements. As guest of the President of the Lincolnshire Union of Golf Clubs, Mr James Lammin, Bruce won the Captain's Day prize at Woodhall Spa Golf Club in a Pair's Betterball Invitation stableford. Well played, Bruce.
In the final South Lincolnshire League fixture in the 2nd Division, Bruce led his team on Saturday to a 6-0 victory, securing the team's place in the 2nd Division in 2017.
SOUTH LINCOLNSHIRE GOLF LEAGUE 2016
FINAL RESULT
1st Team 2nd Division
| | | | | | | |
| --- | --- | --- | --- | --- | --- | --- |
| | Boston | Thorney Lakes | Greetham Valley | Toft Hotel | Sudbrook Moor | Tydd St Giles |
| Boston | | 5 - 1 | 3.5 – 2.5 | 4 - 2 | 3.5 – 2.5 | 6 - 0 |
| Thorney Lakes | 5 - 1 | | 3 - 3 | 3 - 3 | 4 - 2 | 3 - 3 |
| Greetham Valley | 5 - 1 | 5 - 1 | | 3.5 – 2.5 | 4.5 – 1.5 | 6 - 0 |
| Toft Hotel | 5 - 1 | 5.5 – 0.5 | 6 - 0 | | 4 - 2 | 6 - 0 |
| Sudbrook Moor | 6 - 0 | 5 - 1 | 2.5 – 3.5 | 2.5 – 3.5 | | 4 - 2 |
| Tydd St Giles | 2 - 4 | 4.5 – 1.5 | 2.5 – 3.5 | 1.5 – 4.5 | 4 - 2 | |
| | | | | | | | |
| --- | --- | --- | --- | --- | --- | --- | --- |
| | Played | Won | Halved | Lost | For | Against | Points |
| Toft Hotel | 10 | 7 | 1 | 2 | 42.0 | 18.0 | 15 |
| Greetham Valley | 10 | 7 | 1 | 2 | 36.5 | 23.5 | 15 |
| Boston | 10 | 6 | 0 | 4 | 29.0 | 31.0 | 12 |
| Thorney Lakes | 10 | 2 | 3 | 5 | 23.0 | 37.0 | 7 |
| Sudbrook Moor | 10 | 3 | 0 | 7 | 30.0 | 30.0 | 6 |
| Tydd St Giles | 10 | 2 | 1 | 7 | 19.5 | 40.5 | 5 |
SOUTH LINCONSHIRE GOLF LEAGUE 2016
1st Team 2nd Division
at 3rd September - INCOMPLETE
TOFT HOTEL VERSUS THORNEY LAKES
RE-SCHEDULED FINAL MATCH DATE
| | | | | | | |
| --- | --- | --- | --- | --- | --- | --- |
| | Boston | Thorney Lakes | Greetham Valley | Toft Hotel | Sudbrook Moor | Tydd St Giles |
| Boston | | 5 - 1 | 3.5 – 2.5 | 4 - 2 | 3.5 – 2.5 | 6 - 0 |
| Thorney Lakes | 5 - 1 | | 3 - 3 | 3 - 3 | 4 - 2 | 3 - 3 |
| Greetham Valley | 5 - 1 | 5 - 1 | | 3.5 – 2.5 | 4.5 – 1.5 | 6 - 0 |
| Toft Hotel | 5 - 1 | | 6 - 0 | | 4 - 2 | 6 - 0 |
| Sudbrook Moor | 6 - 0 | 5 - 1 | 2.5 – 3.5 | 2.5 – 3.5 | | 4 - 2 |
| Tydd St Giles | 2 - 4 | 4.5 – 1.5 | 2.5 – 3.5 | 1.5 – 4.5 | 4 - 2 | |
| | | | | | | | |
| --- | --- | --- | --- | --- | --- | --- | --- |
| | Played | Won | Halved | Lost | For | Against | Points |
| Greetham Valley | 10 | 7 | 1 | 2 | 36.5 | 23.5 | 15 |
| Toft Hotel | 9 | 6 | 1 | 2 | 36.5 | 17.5 | 13 |
| Boston | 10 | 6 | 0 | 4 | 29.0 | 31.0 | 12 |
| Thorney Lakes | 9 | 2 | 3 | 4 | 22.5 | 31.5 | 7 |
| Sudbrook Moor | 10 | 3 | 0 | 7 | 30.0 | 30.0 | 6 |
| Tydd St Giles | 10 | 2 | 1 | 7 | 19.5 | 40.5 | 5 |
SOUTH LINCOLNSHIRE GOLF LEAGUE 2016
1st Team 2nd Division
after the 20th August
| | | | | | | |
| --- | --- | --- | --- | --- | --- | --- |
| | Boston | Thorney Lakes | Greetham Valley | Toft Hotel | Sudbrook Moor | Tydd St Giles |
| Boston | | | 3.5 – 2.5 | 4 - 2 | 3.5 – 2.5 | 6 - 0 |
| Thorney Lakes | 5 - 1 | | 3 - 3 | 3 - 3 | 4 - 2 | 3 - 3 |
| Greetham Valley | 5 - 1 | 5 - 1 | | 3.5 – 2.5 | 4.5 – 1.5 | 6 - 0 |
| Toft Hotel | 5 - 1 | | 6 - 0 | | 4 - 2 | 6 - 0 |
| Sudbrook Moor | 6 - 0 | 5 - 1 | 2.5 – 3.5 | 2.5 – 3.5 | | 4 - 2 |
| Tydd St Giles | 2 - 4 | 4.5 – 1.5 | 2.5 – 3.5 | 1.5 – 4.5 | 4 - 2 | |
| | | | | | | | |
| --- | --- | --- | --- | --- | --- | --- | --- |
| | Played | Won | Halved | Lost | For | Against | Points |
| Greetham Valley | 10 | 7 | 1 | 2 | 36.5 | 23.5 | 15 |
| Toft Hotel | 9 | 6 | 1 | 2 | 36.5 | 17.5 | 13 |
| Boston | 9 | 5 | 0 | 4 | 24.0 | 30.0 | 10 |
| Thorney Lakes | 8 | 2 | 3 | 3 | 21.5 | 26.5 | 7 |
| Sudbrook Moor | 10 | 3 | 0 | 7 | 30.0 | 30.0 | 6 |
| Tydd St Giles | 10 | 2 | 1 | 7 | 19.5 | 40.5 | 5 |
IN THE ABSENCE OF AN UP-TO-DATE LUGC LEAGUE TABLE,
HERE ARE THE BARE BONES
1st Team 2nd Division
at the start of 20.8.2016
1ST TOFT 13PTS - ONE TO PLAY
2ND GREETHAM VALLEY 13PTS - ONE TO PLAY
3RD BOSTON 10PTS - TWO TO PLAY
4TH THORNEY LAKES 7PTS - TWO TO PLAY
5TH TYDD ST GILES 5PTS - ONE TO PLAY
6TH SUDBROOK MOOR 4PTS - ONE TO PLAY
2016
MATCH VERSUS TYDD ST GILES GOLF CLUB
ON SATURDAY 6TH AUGUST
AWAY
LOST 2 - 4
1st Team 2nd Division
at 23.07.2016
2016
MATCH VERSUS TOFT GOLF CLUB
ON SATURDAY 23RD JULY
AWAY
LOST 2 - 4
| | | | | | | |
| --- | --- | --- | --- | --- | --- | --- |
| | Boston | Thorney Lakes | Greetham Valley | Toft Hotel | Sudbrook Moor | Tydd St Giles |
| Boston | | | 3.5 – 2.5 | | 3.5 – 2.5 | |
| Thorney Lakes | 5 - 1 | | | 3 - 3 | 4 - 2 | 3 - 3 |
| Greetham Valley | 5 - 1 | 5 - 1 | | 3.5 – 2.5 | 4.5 – 1.5 | 6 - 0 |
| Toft Hotel | 5 - 1 | | 6 - 0 | | 4 - 2 | 6 - 0 |
| Sudbrook Moor | | 5 - 1 | 2.5 – 3.5 | 2.5 – 3.5 | | 4 - 2 |
| Tydd St Giles | 2 - 4 | 4.5 – 1.5 | | 1.5 – 4.5 | | |
| | | | | | | | |
| --- | --- | --- | --- | --- | --- | --- | --- |
| | Played | Won | Halved | Lost | For | Against | Points |
| Toft Hotel | 8 | 6 | 1 | 1 | 34.5 | 13.5 | 13 |
| Greetham Valley | 8 | 6 | 0 | 2 | 30.0 | 18.0 | 12 |
| Thorney Lakes | 7 | 2 | 2 | 3 | 18.5 | 23.5 | 6 |
| Boston | 6 | 3 | 0 | 3 | 14.0 | 22.0 | 6 |
| Sudbrook Moor | 8 | 2 | 0 | 6 | 22.0 | 26.0 | 4 |
| Tydd St Giles | 7 | 1 | 1 | 5 | 13.0 | 29.0 | 3 |
SOUTH LINCOLNSHIRE GOLF LEAGUE 2016
at 09.07.2016
1st Team 2nd Division
| | | | | | | |
| --- | --- | --- | --- | --- | --- | --- |
| | Boston | Thorney Lakes | Greetham Valley | Toft Hotel | Sudbrook Moor | Tydd St Giles |
| Boston | | | 3.5 – 2.5 | | 3.5 – 2.5 | |
| Thorney Lakes | 5 - 1 | | | 3 - 3 | 4 - 2 | |
| Greetham Valley | | 5 - 1 | | 3.5 – 2.5 | 4.5 – 1.5 | 6 - 0 |
| Toft Hotel | 5 - 1 | | 6 - 0 | | | 6 - 0 |
| Sudbrook Moor | | 5 - 1 | 2.5 – 3.5 | 2.5 – 3.5 | | 4 - 2 |
| Tydd St Giles | 2 - 4 | 4.5 – 1.5 | | 1.5 – 4.5 | | |
| | | | | | | | |
| --- | --- | --- | --- | --- | --- | --- | --- |
| | Played | Won | Halved | Lost | For | Against | Points |
| Toft Hotel | 7 | 5 | 1 | 1 | 30.5 | 11.5 | 11 |
| Greetham Valley | 7 | 5 | 0 | 2 | 25.0 | 17.0 | 10 |
| Boston | 5 | 3 | 0 | 2 | 13.0 | 17.0 | 6 |
| Thorney Lakes | 6 | 2 | 1 | 3 | 15.5 | 20.5 | 5 |
| Sudbrook Moor | 7 | 2 | 0 | 5 | 20.0 | 22.0 | 4 |
| Tydd St Giles | 6 | 1 | 0 | 5 | 10.0 | 26.0 | 2 |
SOUTH LINCOLNSHIRE GOLF LEAGUE 2016
at 02.07.2016
2016
MATCH VERSUS THORNEY LAKES GOLF CLUB
ON SATURDAY 25TH JUNE
HOME
WON 5 - 1
1st Team 2nd Division
| | | | | | | |
| --- | --- | --- | --- | --- | --- | --- |
| | Boston | Thorney Lakes | Greetham Valley | Toft Hotel | Sudbrook Moor | Tydd St Giles |
| Boston | | | 3.5 – 2.5 | | 3.5 – 2.5 | |
| Thorney Lakes | 5 - 1 | | | 3 - 3 | 4 - 2 | |
| Greetham Valley | | 5 - 1 | | 3.5 – 2.5 | 4.5 – 1.5 | 6 - 0 |
| Toft Hotel | 5 - 1 | | | | | 6 - 0 |
| Sudbrook Moor | | 5 - 1 | 2.5 – 3.5 | 2.5 – 3.5 | | 4 - 2 |
| Tydd St Giles | 2 - 4 | 4.5 – 1.5 | | 1.5 – 4.5 | | |
| | | | | | | | |
| --- | --- | --- | --- | --- | --- | --- | --- |
| | Played | Won | Halved | Lost | For | Against | Points |
| Greetham Valley | 6 | 5 | 0 | 1 | 25.0 | 11.0 | 10 |
| Toft Hotel | 6 | 4 | 1 | 1 | 24.5 | 11.5 | 9 |
| Boston | 5 | 3 | 0 | 2 | 13.0 | 17.0 | 6 |
| Thorney Lakes | 6 | 2 | 1 | 3 | 15.5 | 20.5 | 5 |
| Sudbrook Moor | 7 | 2 | 0 | 5 | 20.0 | 22.0 | 4 |
| Tydd St Giles | 6 | 1 | 0 | 5 | 10.0 | 26.0 | 2 |
at 11.06.2016
2016
MATCH VERSUS BOSTON GOLF CLUB ON SATURDAY 11TH JUNE
AWAY
LOST 2.5 - 3.5
1st Team 2nd Division
Boston

Thorney Lakes

Greetham Valley

Toft Hotel

Sudbrook Moor

Tydd St Giles

Boston

3.5 – 2.5

3.5 – 2.5

Thorney Lakes

3 - 3

4 - 2

Greetham Valley

5 - 1