SUDBROOK MOOR GOLF CLUB AND GOLF RANGE

CREATING GOLFERS and BETTER GOLF

If you would like immediate information,

please do not hesitate to give us a call anytime.

01400 250796 or 250111
Charity Street, Carlton Scroop, Grantham, Lincolnshire. NG32 3AT


Becoming a Member
To become a member of Sudbrook Moor Golf Club, all you need to do is fill out an Application Form and remit the required Fees and you will become a member eligible for all member's priviliges.
If you join part way through the year, you only pay for the remainder of the year.
Application Form.
Our Application Form can be seen below. Either Download a Copy of the
2020 Form
in PDF Format from the Image below or to obtain a form please ask inside the Golf Shop or use the contacts page to phone us with Address information so we can send you the form.
If you join part way through the year you only pay for the remaining days in the year.
From November 1st, pay for next year and this November and December are included free of charge.
Please ensure all information is filled in clearly and legibly on the form and all the required fields.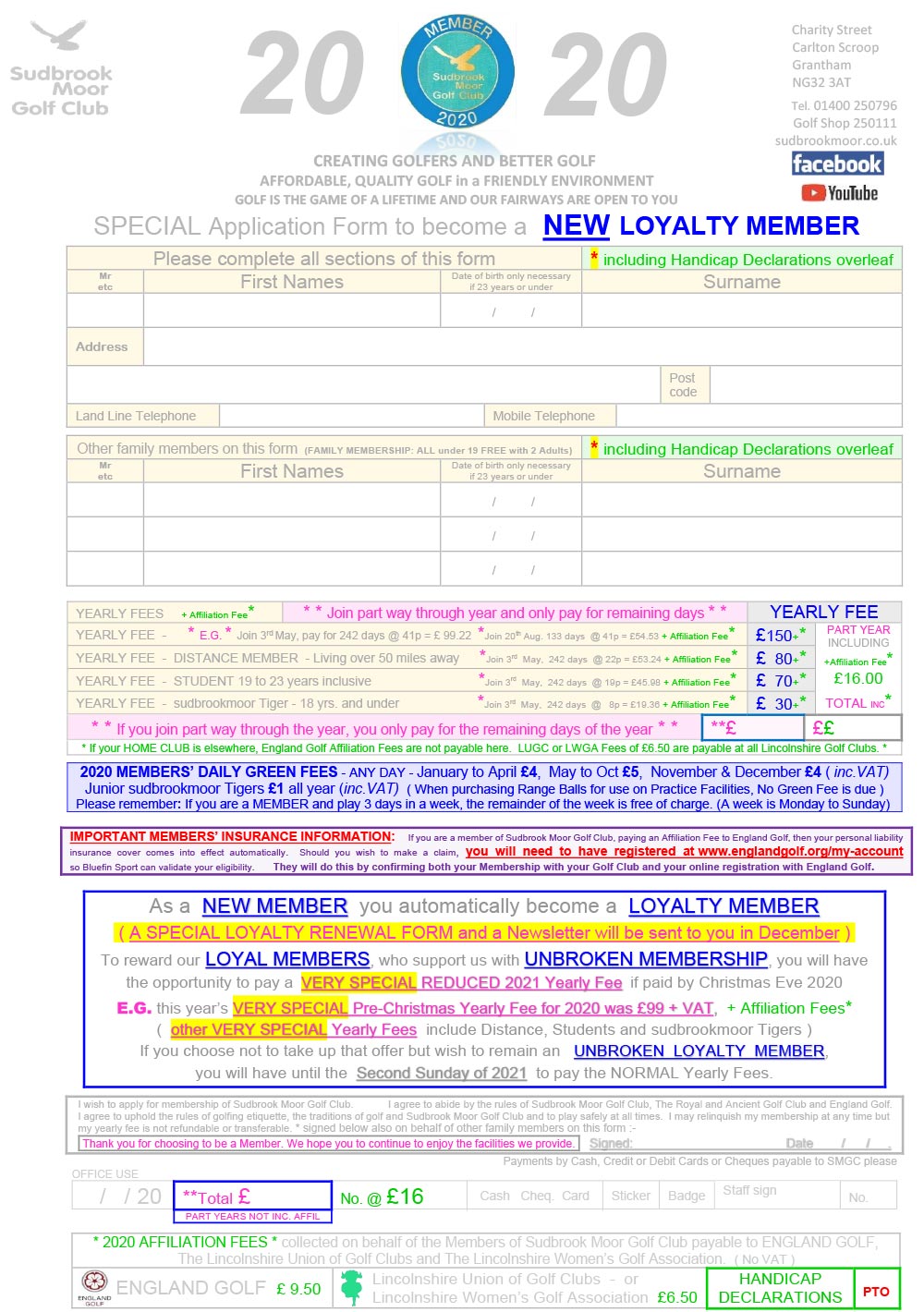 Please complete the appropriate section of the Handicap Form, which can be printed on the reverse of the Membership Form.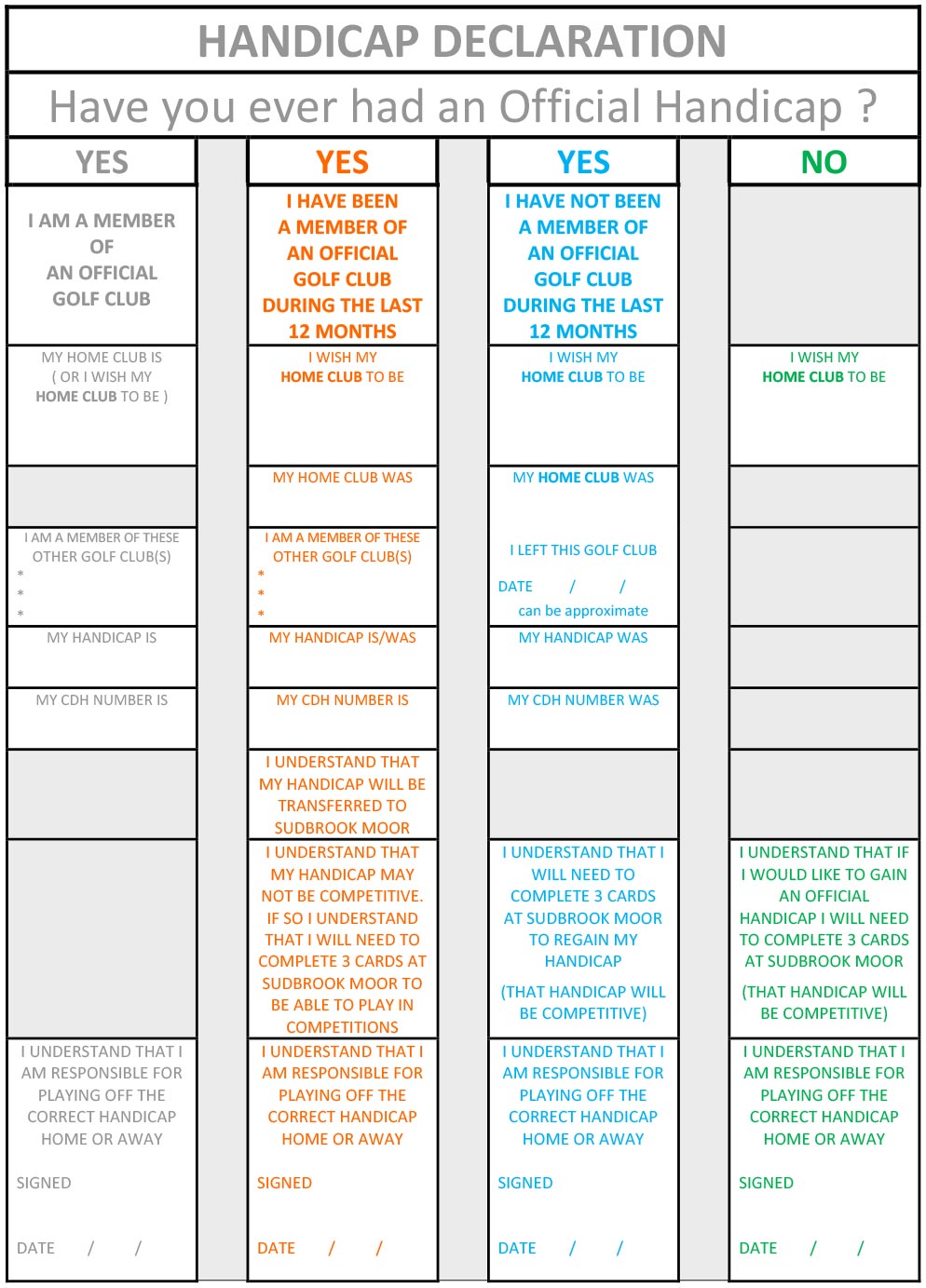 Members of other Golf Clubs joining Sudbrook Moor as a second club:

Many golfers join Sudbrook Moor as a second Golf Club. The small Yearly Fee and low pay and play green fees allows practice on a different Golf Course. Sudbrook Moor Competitions develop new competitive skills. Members' rates on the Golf Range and good quality practice balls make it easy to improve the golf swing, making regular practice affordable.
If you are joining Sudbrook Moor as a second club and wish to keep your Handicap ( if you have one ) at your first club, please indicate your Home Club and Official Exact Handicap on the form. If you play in Sudbrook Moor Competitions, you must supply an up-to-date Handicap Certificate on the day of the Competition and report your score to your Home Club. This is very important to keep your Official Handicap up-to-date and valid.
Please note that Golfers joining from other clubs must complete the Home Club and Handicap Fields of the Application Form. A Player is only permitted to have one 'Home Club' under the laws of Golf so the declaration must be made. If you wish to transfer your Handicap to Sudbrook Moor and have us act as your Home Club, you must provide us with a copy of your Full Handicap Records from your previous Club. These can usually be obtained by contacting your previous Club's Handicap Secretary. A Handicap Certificate is not acceptable proof of Handicap when moving clubs.
As of January 2010 all Golfers with Handicaps within the UK will have a Central Handicap Database Identification Number, please ensure you inform us of this number or get your current/previous club to notify us of this number when you join.
If you have ceased to be a Member of a Golf Club for more than 1 year before joining or moving to Sudbrook Moor, under the rules of the Handicap Body CONGU your handicap becomes lapsed and void. In this instance you should state on the application form your CDH number and the lowest Handicap you obtained, but you will still be requested to submit three cards to our Handicap Secretary for evaluation before you will have an Official Handicap awarded.



Lapsed Members:

If you have been a Member at Sudbrook Moor before but for whatever reason let your Membership lapse, yet now wish to rejoin the club, please call in or contact the Golf Shop.