SUDBROOK MOOR GOLF CLUB AND GOLF RANGE

CREATING GOLFERS and BETTER GOLF
Course Scorecard
Sudbrook Moor is a 9 Hole Golf Course, which has 18 Pin Locations offering an 18 Hole Experience. The Course is fully affiliated and recognised by the EGU. The card for the course can be found below: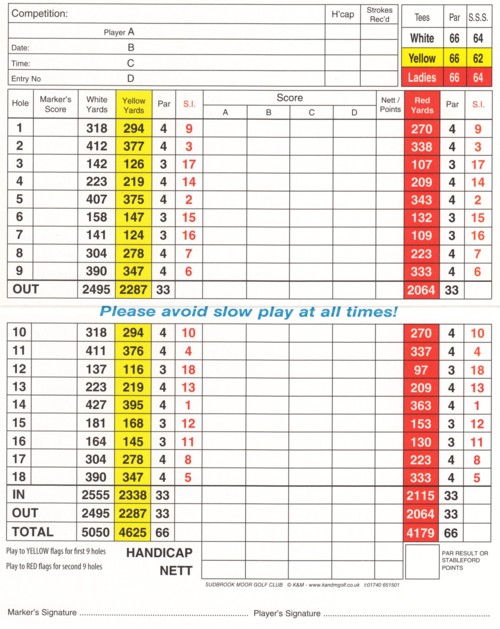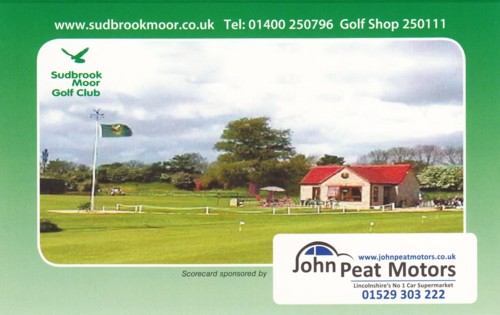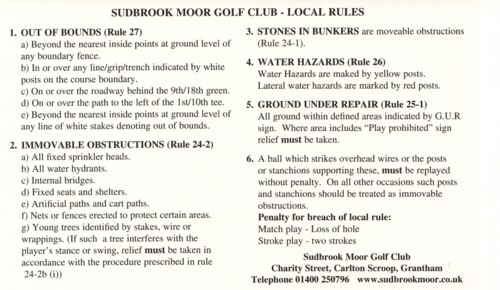 The card below is the old card with the out of date yardages. It will be deleted when we work out how to delete a PDF link !
(Card can be clicked on to bring up a PDF version which can then be printed out)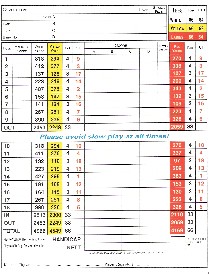 Sudbrook Moor's Local Rules:
1. OUT OF BOUNDS (RULE 27)
a) Beyond the nearest inside points at ground level of any boundary fence.
b) In or over any line/grip/trench indicated by white posts on the course boundary.
c) On or over the roadway behind the 9th / 18th greens.
d) On or over the path to the left of the 1st / 10th tee.
e) Beyond the nearest inside points at ground level of any line of white stakes denoting out of bounds.
2. IMMOVABLE OBSTRUCTIONS (RULE 24-2)
a) All fixed sprinkler heads.
b) All water hydrants.
c) Internal bridges.
d) Fixed seats and shelters.
e) Artificial paths and cart paths.
f) Nets or fences erected to protect certain areas.
g) Young trees identified by stakes, wire or wrappings. (If such a tree interferes with the player's stance or swing, relief MUST be taken in accordance with procedure described in rule 24-2b (i)
3. STONES IN BUNKERS are moveable obstructions (RULE 24-1)
4. WATER HAZARDS (RULE 26)
Water Hazards are marked by yellow posts. Lateral Water Hazards are marked by Red Posts.
5. GROUND UNDER REPAIR (RULE 25-1)
All ground within defined areas indicated by G.U.R. sign. Where area includes "Play Prohibited" sign relief MUST be taken.
6. A ball which strikes Overhead Wires or the Posts or Stanchions supporting these, MUST be replayed without penalty. On all other occasions such posts and stanchions should be treated as Immoveable Obstructions.
7. The use of Laser or GPS Distance Measuring Devices is permitted, providing such devices do not provide measurements for slope, temperature, wind speed and direction. Devices with these added features even if turned off are not permitted for use at Sudbrook Moor. Mobile Phones are not permitted for use as Distance Measuring Devices under County and R&A Rulings.

Penalty for Breach of Local Rules:
Match Play - Loss of Hole
Stroke Play - Two Strokes
Dress Code:
SMGC has a relaxed dress code. However, players are requested to dress smartly in clothes normally associated with golf. Shorts must be tailored and men?s shirts must have sleeves.
Note re shorts: Beachwear types are not allowed.
Note re shoes: Golf shoes with metal or softspikes preferred.
Additional Dress Code Rule for Members Playing in Official Competitions (Medals, Mid-Week Competitions, Stablefords, Summer or Winter Knockout Matches) :
In addition, when playing in Sudbrook Moor Competitions, Members must wear ankle socks or longer and no denims are allowed.