Playing Lessons:
Another option open to people is the opportunity to have a 1 to 1 playing lesson with the Professional. This is usually conducted over 9 holes of play. Here you will be given greater help on issues like Course Management, Alignment, Club Selection and Shot Selection.
Fee for this type of lesson is usually between £50 and £70 depending on length of time on the course. Your green fee will be included in this cost.
Video Lessons:
We also offer people the chance to have a video lesson. This will be very similar to the standard lesson in format, with the difference being a camera will be used to capture a sample of swings usually a 'Before & After' type of thing, where by swings at the start of the lesson are captured then after receiving coaching some further swings are captured. This footage can then be loaded in our Analysis Software for further evaluation and allow the Professional to then give the customer further feeback, printouts with key points or faults highlighted can be provided for reference.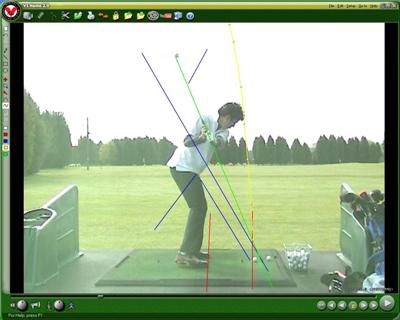 These lessons are provided by Ben Hutton so need to be booked with Ben and availability of these Lessons is dependent on Ben being available to do the camera recording and transfering of video footage to the PC and intergrating it into the Software. These lessons are charged at £30 Per 30 minute Lesson.